Our organ is tired. After years of wonderful music, our organ is ready for an update and upgrade.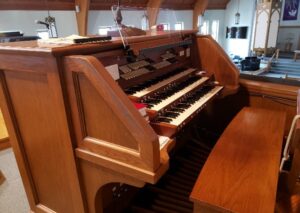 During the April 2021 church council meeting, it was approved to have a special congregational meeting on JUNE 6TH, 2021 with a vote to move forward with a capital campaign for an organ revitalization. Our organ restoration committee is very aware of some of the financial concerns that our congregation has and wants to make sure your concerns are heard prior to this meeting. With that goal in mind, we will be hosting two forums on MAY 23RD and MAY 26TH, following the conclusion of worship in the Fellowship Hall.
At this time, we are not asking for pledges; however, there is an organ fund started if you would like to make a donation. Pledges and fundraisers will take place if the congregation votes "yes" to the project on June 6th.
---
What Needs to Be Done
Please take some time, and check out the video below from the J.F. Nordlie Company, who has placed a bid to do Zion's organ restoration. Joseph Brown explains the work that needs to be done to restore Zion's organ.
Below is the PowerPoint that was shared during our Organ Restoration forums in May. This includes all information about the proposed bid, what work needs to be done, and the proposal on how to pay for the necessary work.
PDF of PowerPoint presentation

---
Organ Restoration Vote
We will be holding a special congregational meeting on Sunday, June 6th at 9:45 AM in the fellowship hall.  If you cannot attend the meeting in person, but would still like to cast your vote, use the information below to join us via Zoom.  If you plan on voting online, please notify the church office (225-6755) by the end of the day on Thursday, June 3rd.
Meeting ID: 827 3039 9623
Passcode: ORGANVOTE
Join the Zoom Meeting