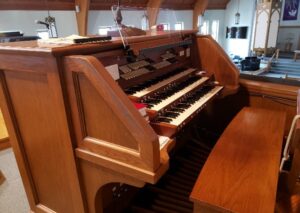 On June 6, Zion members approved a renovation plan to make the much needed repairs and  improvements to our pipe organ.  This plan was prepared by J.F. Nordlie Company of Sioux Falls who has provided routine maintenance for many years and is well acquainted with the current condition of our  instrument.  Their quote for the project is $250,000, but no work can or will begin until $50,000, or 20% of the cost, has been raised and paid as a first installment, and we have received pledges to cover the balance. If you have questions about the scope of this project, we encourage you to watch a brief video prepared by Nordlie that fully explains what they are proposing.  It can be found below.
Although this is a daunting project, it provides us with the opportunity to assure a quality organ will be available for future generations to enjoy during worship, weddings, and/or celebrations of life. We've supported other high-cost projects, worked together to raise funds, and successfully completed the work. Let's come together again, embrace the organ's needs, and return it to its glory.
---
What Needs to Be Done
Please take some time, and check out the video below from the J.F. Nordlie Company, who has placed a bid to do Zion's organ restoration. Joseph Brown explains the work that needs to be done to restore Zion's organ.
---
Next Steps
Of course, there will be a pledge drive, so all members can contribute whatever comfortably fits into their budget over a multi-year period.  Every gift is important, no matter its size.  But there will also be fundraisers of all types planned for us to enjoy food and fellowship to benefit the organ.
There are many ways to support this project other than with your dollars.  Your time and talents are also vital to the project's success.  Fundraising ideas have been shared and are being  considered. If you have event ideas or are willing to help with an event, please contact the Organ Committee. Together we can have some fun while raising the necessary dollars to begin and ultimately complete the project.
If you would like to make a one-time donation to the organ restoration project, you can do so using the button below.  On the webpage, please be sure to enter your donation on the "Organ Restoration" line. Pledge forms will be available and sent out in the coming months.
Give to the Organ Restoration Project