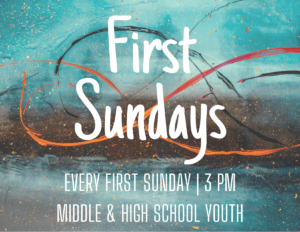 FIRST SUNDAYS–Join Pastoral Assistant Saundra for a time of fellowship, service, faith, and fun!
We will have a consistent time for middle and high school youth to get together during the spring (Feb-May): the first Sunday of the month at 3:00 PM. We'll meet in the youth room upstairs; each day will have a different theme/topic, and activities will vary from time to time.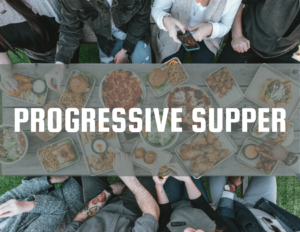 PROGRESSIVE SUPPER–Our next progressive supper will be on Sunday, February 26th. Open to middle and high school youth.  Bring a friend! We will meet at Zion at 5:00 pm. Preschool teacher Mrs. Ringgenberg, Nicole Kempf, and Nicole Schutter will be serving meals! Kids will be returned for pick-up or can be dropped off at home after the event upon request.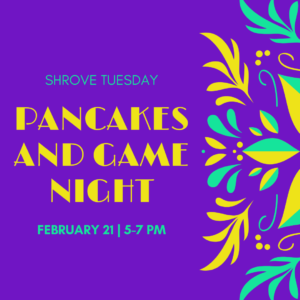 SHROVE TUESDAY FAMILY NIGHT–Join us for a night of fun before the beginning of Lent! We will be hosting a pancake and family game night on Tuesday,   February 21 from 5-7 PM. The Men's Group will be serving pancakes for a free will offering.  Some board games will be provided, but we invite you to bring your favorite family game with you. Pastor Jim is planning on playing some foosball, so be sure to bring your A game!
PROGRESSIVE LOCK-IN–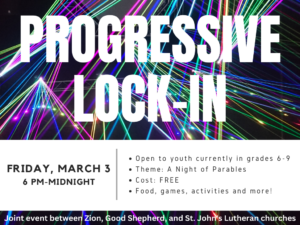 Join us for a Night of Parables as we travel from Good Shepherd to Zion to St. John's in Warner for a progressive lock-in! The event will be held on Friday, March 3rd; we will meet at Zion at 5:30 PM and take the church van to the different    locations for the evening. We will return to Zion for pickup by midnight. Supper, dessert, and snacks will be served, and the night will include activities, service projects, games, and much more to do! Open to youth in grades 6-9; bring a friend!  If you plan to attend, please let Saundra know by Wednesday, March 1.
---
Summer 2023 Service Trip

TRIP DETAILS
Here's what we're looking at for our summer service trip:
Dates: June 4-10, 2023
Location: Denver area
Where we'd stay: Messiah Mountain Retreat Center
What we'd do: June 4 and June 10 are travel days; June 5, 6, 7, 8 are doing service projects with community partners through Service Learning Camps; June 9 is tourist day!
Cost: $450 per person
If you plan to attend, please contact Saundra ASAP! We've started our fundraisers and would love to get you involved!
ELCA Youth Gathering
We look forward to the opportunity to take youth to the Gathering that will be held in the Summer of 2024! This will be held in New Orleans from July 16-20, and we are making plans to attend! There will be more meetings closer to Christmas and in the spring, as well.
If you would like more information on what to expect from an ECLA Youth Gathering, please click the button below.