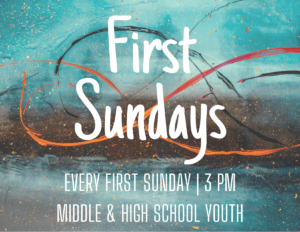 FIRST SUNDAYS – Join us for a time of fellowship, service, faith, and fun! Come as you are, and join in when you can!
Dates for First Sundays are:  November 5 & December 3
Meet in the youth room at 3:00 PM. Open to middle and high school youth—bring a friend!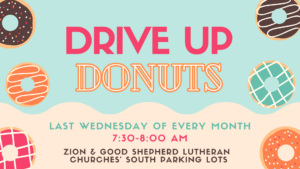 DRIVE UP DONUTS – On the last Wednesday of the month, donuts and a devotion will be available for pickup at Zion and Good Shepherd Lutheran churches. Simply enter the south parking lot, drive up to the table, and a helper will hand you donuts and a devotion that you can enjoy on your way to school. The next drive up donuts event will be held on Wednesday, November 29th from 7:30-8:00 AM. This event is open to all.


CONFIRMATION MEETING–The meeting for 9th grade confirmation students will be Sunday, November 19 at 11:00 AM in the fellowship hall.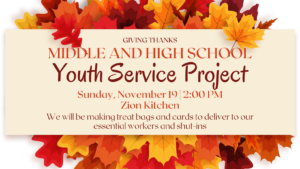 GIVING THANKS EVENT–As a way to give back to our community, the middle and high school youth with hold a Giving Thanks event on Sunday, November 19th at 2:00 PM. We will be making treat bags and cards to take to our essential workers and shut-ins. Mark this date on your calendar and plan to join us as we celebrate all we have to be thankful for!
ZION NIGHT AT ALLEVITY–Join us for an evening of fun over the holiday break! Come to Allevity on Wednesday, December 27 from 6-9 PM and spend some time playing games and enjoying the attractions! 10% of all purchases for the evening will go toward our youth programming. Bring your friends and family!
zion lutheran 12-27-23

---
ELCA Youth Gathering
We look forward to the opportunity to take youth to the Gathering that will be held in the Summer of 2024! This will be held in New Orleans from July 16-20, and we are making plans to attend!

The ELCA Youth Gathering in New Orleans will be next summer (July 16-20, 2024). Those currently in grades 8-12 are eligible to attend.
If you are interested in learning more about the trip, please get in touch with Saundra.
Registration is currently open until November 1!