Parking Lot Party
Join us as we celebrate the ending of another school year! We'll eat, play some outdoor games, and end the evening with s'mores and a fire in the north parking lot. Open to middle school and high school youth. Bring a friend!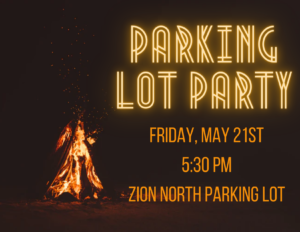 ---
Youth Room Refresh
If you missed the meeting, below is the PowerPoint of different color and design options for the space.  Please let Saundra know by Friday, May 14th what your preferences are for room color!
---
Summer Camp Registration

Summer 2021 Registration Now Open!
Hooray! Summer Camp registration is now open! We are so excited to welcome you back to the camps of Lutherans Outdoors for summer camp in 2021!
Remember to visit losd.org to register for a wonderful faith-filled experience at a Lutherans Outdoors camp for the summer of 2021.
All registrations are done online at losd.org. Register now!
Zion parents, If your child(ren) is currently in third grade or older, talk to Saundra if you'd like to get signed up for camp and be a part of our fundraising this spring and summer.
---
 Church on the Street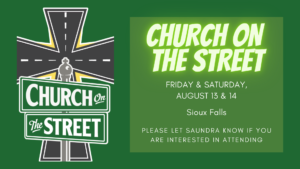 We are planning on taking a group to worship with Church on the Street in Sioux Falls in August. We will leave from the church Friday evening, stay overnight in Sioux Falls, and return Saturday evening after worship.  If you are interested in attending, please contact Saundra at the church (225-6755).
---
ECLA Youth Gathering

After much prayer and consideration, the planning committee has decided to postpone next summer's ELCA Youth Gathering to 2022 due to the COVID-19 pandemic.
The 2022 ELCA Youth Gathering will be held July 24-28, 2022, still in Minneapolis.
Some things you may be wondering:
Who is eligible to attend?
Youth who are in 8th to 12th grade at the time of registration (Fall 2021) are eligible to attend. They are not making exceptions to the age range because of the pandemic.
When will the next national youth gathering be held?
Even though they are postponing this gathering, the next gathering will still be held in 2024.
For more information on what the ELCA Youth Gathering is, please click the button below:
---
ELCA Youth Gathering Information for Zion Families
If your child is interested in attending the ELCA Youth Gathering and you missed our informational meetings, please contact Pastor Erin or Pastoral Assistant Saundra at 225-6755 to receive our ELCA Youth Gathering brochure.