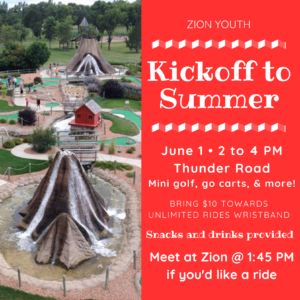 YOUTH KICKOFF TO SUMMER – A Kickoff to Summer event will be held for middle and high school youth on Thursday, June 1 from 2-4 PM at Thunder Road. Meet at 1:45 PM at the church if you would like a ride.  Bring $10 towards your unlimited ride wristband, and the youth committee will pay the rest. Snacks and drinks provided.  Let Saundra know ASAP if you plan to attend!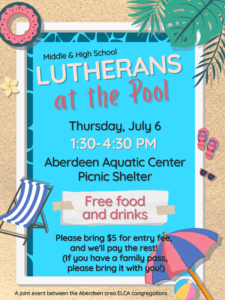 LUTHERANS AT THE POOL–On Thursday, July 6th, we will be joining with our area ELCA congregations for an afternoon at the pool. Come anytime between 1:30-4:30 PM for the event; you can let them know at the door which church you are with. Cost is $5 or free if you have and bring your family pass. Check in with us at the covered picnic shelter before you head off to swim, and join us during breaks for snacks, drinks, and a couple activities! This event is open to middle school and high school youth.
---
ELCA Youth Gathering
We look forward to the opportunity to take youth to the Gathering that will be held in the Summer of 2024! This will be held in New Orleans from July 16-20, and we are making plans to attend!

We will be holding informational meetings this summer for those interested in attending the ELCA Youth Gathering in New Orleans next summer (July 16-20, 2024). These meetings will be held on Sunday, June 11 following worship; Wednesday, June 14 at 7:00 PM; and Sunday, July 16 following worship. Even if you aren't ready to commit yet, please come and learn more about the trip, the city where we're going, what we'll do there, fundraising opportunities, and more! All information shared at the meetings will be the same, so pick a meeting that works best for your schedule.