Opportunities to Get Involved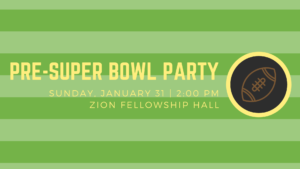 PRE-SUPER BOWL PARTY – We hope your schedule will be wide open on Sunday, January 31st at 2:00 pm.  We are kicking off the afternoon in the best way possible! Join us as we make messy canvases with your favorite football team's logo and some treat bags for the road.  Don't pass on this event – rush on over! Open to kids in grades 5-12.
_________________________________________________________________________________________________________
National Youth Gathering

After much prayer and consideration, the planning committee has decided to postpone next summer's ELCA Youth Gathering to 2022 due to the COVID-19 pandemic.
The 2022 ELCA Youth Gathering will be held July 24-28, 2022, still in Minneapolis.
Some things you may be wondering:
Who is eligible to attend?
Youth who are in 8th to 12th grade at the time of registration (Fall 2021) are eligible to attend. They are not making exceptions to the age range because of the pandemic.
When will the next national youth gathering be held?
Even though they are postponing this gathering, the next gathering will still be held in 2024.
We will be contacting families later this fall for those who have students eligible to attend the even with more information. Stay tuned!
National Youth Gathering Fundraiser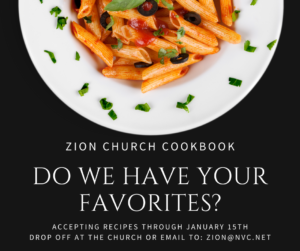 Last call for recipes for the Zion Cookbook! They can be dropped off at the church during the week, placed in the offering plate on Sundays, mailed, or emailed.  Please consider sharing your favorite recipes for all occasions with us! Recipes will be put into a Zion Cookbook and sold as a fundraiser for the youth attending the National Youth Gathering next summer.