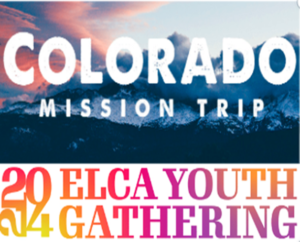 INFORMATIONAL MEETING–There was an informational meeting held on September 18 for kids in grades 6-12 interested in attending a service trip next summer to Denver or the ELCA Youth Gathering in summer 2024. If you missed the meeting but would like more information, please contact the church office and speak to Saundra.
If you plan to attend one or both of the trips, please let Saundra know as soon as possible so we can get you started with our fundraisers!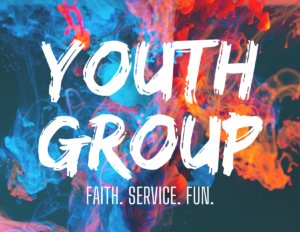 FALL YOUTH GROUP–Below are the dates for middle and high. Come as you are, and join in when you can!
October 16 @ 7:00 PM (during s'mores)
October 30 @ 7:00 PM (during s'mores)
November 6 @ 12:00 PM
November 13 @ 7:00 PM (during s'mores)
November 20 @ 12:00 PM (service project)
December 4 @ 12:00 PM (service project)
December 11 & 18 @ 12:00 PM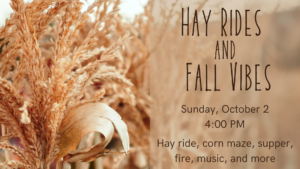 HAY RIDES AND FALL VIBES EVENT–Mark your calendar–if you love all things fall, this one is for you!
On Sunday, October 2, we will be joining the middle and high school youth from Good Shepherd and St. John's in Warner for a joint fall event! We will meet at Zion at 3:30 PM and travel to Warner. From there, we will take a hay ride to the corn maze in Stratford; we'll then travel back to Warner for supper, a fire, music, and more!
This event is open to kids in grades 6-12.
S'MORES WITH SAUNDRA–
Join Pastoral Assistant Saundra for some yummy treats in the north parking lot on the following Sunday evenings: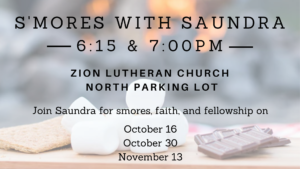 • October 16
• October 30
• November 13
6:15 PM Elementary youth—grades 3-5
7:00 PM Middle School & High School
Bring a friend, and don't forget to dress warm! Hotdogs will also be available to roast over the open flame.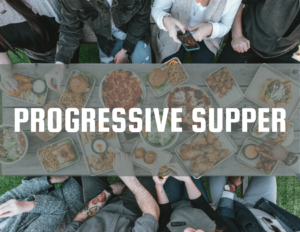 PROGRESSIVE SUPPER– Our next progressive supper will be Sunday, October 23rd at 4:30 PM. Bring a friend! We will meet at Zion at 4:30 pm, and we will take the church van to our different locations. You will be returned for pick-up or can be dropped off at home after the event upon request.
---
Summer 2023 Service Trip

TENTATIVE TRIP DETAILS
Here's what we're looking at for our summer service trip:
Dates: June 4-10, 2023
Location: Denver area
Where we'd stay: Messiah Mountain Retreat Center
What we'd do: June 4 and June 10 are travel days; June 5, 6, 7, 8 are doing service projects with community partners through Service Learning Camps; June 9 is tourist day!
Cost: $400-$450 per person
If you plan to attend, please contact Saundra ASAP!
ELCA Youth Gathering
We look forward to the opportunity to take youth to the Gathering that will be held in the Summer of 2024! This will be held in New Orleans from July 16-20, and we are making plans to attend! There will be more meetings closer to Christmas and in the spring, as well.
If you would like more information on what to expect from an ECLA Youth Gathering, please click the button below.