Adult faith formation opportunities are held periodically throughout the year by a pastor or lay professional on a variety of topics.  Adult servant trips are also hosted through our Social Concerns committee every few years.  
---
Divine Drama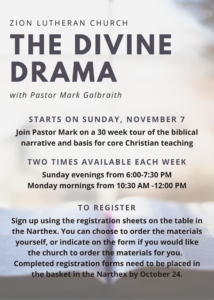 Join Pastor Mark on a 30 week tour of the biblical narrative and basis for core Christian teaching.
There are two times available for each week's session:
Sunday evenings from 6:00-7:30 PM
Monday mornings from 10:30 AM-12:00 PM
Open to anyone (do not need to be a Zion member to participate) high school-aged and older.
To sign up, call the church office during the week at 225-6755.  There are materials available for purchase that will enhance your experience; however, they are not required to attend the class (and you can share with someone else!)
To join the Sunday night Divine Drama class via Zoom, click the button below:
Join Divine Drama