Monthly Offerings
The congregation of Zion supports local, state, and national ministry efforts through a special offering collected throughout the month.  The congregation also collects change (or other monetary donation amounts) on the second Sunday of each month through a "Noisy Offering" collection that is taken during the Kids Time of the service.
The month offerings for 2021 are:
January:                                       Journey Home
February:                                    Habitat for Humanity
March:                                          SDSU Lutheran Center
April:                                              Lutheran Social Services
May:                                               Salvation Army
June:                                              South Dakota Companion Synods
July:                                                Lutheran World Relief
August:                                         ELCA Hunger Appeal
September:                                Safe Harbor
October:                                      Aspire
November:                                 SD Multicultural Ministries (Pine Ridge/Woyatan)
December:                                 St. Dysmas
---
Neighbors Helping Neighbors
At Zion, we are incredibly blessed by God's grace and mercy in our lives. We try to share this grace with our congregation, Aberdeen community, and beyond through service projects and good works.  We believe in Neighbors Helping Neighbors.  Most of these projects are coordinated through our Social Concerns committee as needs arise in our community.  Some previous projects include collecting items for Sleep in Heavenly Peace, serving a meal at the Salvation Army, making meals for our freezer ministry, collecting care packs for Safe Harbor, donating items to Journey Home and the Avera ER, donating blankets to the Pine Ridge Center, and volunteering at Feeding South Dakota food distribution nights in Sioux Falls.
---
God's Work Our Hands Sunday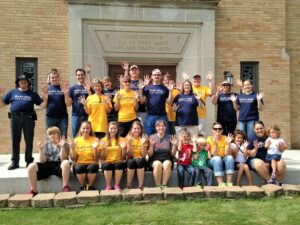 Yearly, Zion congregation members participate in God's Work Our Hands Sunday held in September. This day is an opportunity to celebrate who we are as the Evangelical Lutheran Church in America – one church, freed in Christ to serve and love our neighbor.  Traditionally, members of Zion volunteer with members the two other ELCA churches in Aberdeen to make a difference in our local community.
---
Lutheran Campus Ministry
Zion partners with our local ELCA Lutheran Campus Ministry group at Northern State University here in Aberdeen.  This group provides faith opportunities for young adults while they attend college away from their home church.  Occasionally, the LuMin group will provide a temple talk, worship with our congregation on a Sunday morning, or even share their experiences on service trips.
For more information on NSU's LuMin group, please visit their Facebook here.