Opportunities to Get Involved

In person: Our next in-person Sunday School time will be Sunday, January 3rd at 9:45 am in the Fellowship Hall. Masks will be required for all over the age of two, and physical distancing will be practiced between family groups.
Packets: There will be two packets available for at home Sunday School in January. These packets will be available at the in-person date or in the church office throughout the month. These packets are available to all kids, whether they were officially registered for this Sunday School year or not. Please feel free to pick up packets to take home to your kids, grandkids, nieces and nephews, etc. Materials, along with a video of the story and musical selections for each packet will be available on the Zion Youth Facebook page on January 10th and January 24th. https://bit.ly/zionyouthFBpage
Christmas Program: In case you missed it, our 2020 Sunday School Christmas Program was aired during our Christmas Eve services both in-person and online.  If you would like to view the program, or would like to share it with family and friends, please use the following link:  http://bit.ly/2020ssprogram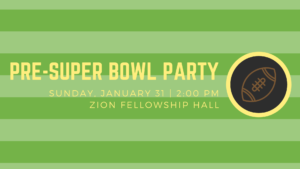 PRE-SUPER BOWL PARTY – We hope your schedule will be wide open on Sunday, January 31st at 2:00 pm.  We are kicking off the afternoon in the best way possible! Join us as we make messy canvases with your favorite football team's logo and some treat bags for the road.  Don't pass on this event – rush on over! Open to kids in grades 5-12.
_______________________________________________________________________________
January 10 At Home Sunday School
Jesus and John Activity Instructions

Do You Have cards

Feed John pages

Jesus and John the Baptist Coloring Page D

Jesus and John the Baptist Family Page