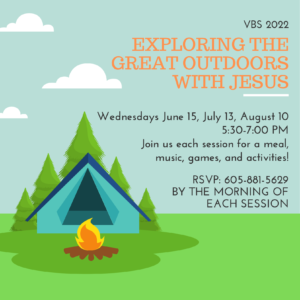 SUMMER 2022 VACATION BIBLE SCHOOL – You are invited!! Join us for three sessions of VBS this summer as we Explore the Great Outdoors with Jesus!  These sessions will be held on Wednesdays June 15, July 13, August 10. Each session features a new location in the great outdoors with a corresponding Bible story, along with a meal, music, and much more!
For June 15
5:30-6:00 PM      Meal served (hotdog, chips, dessert)
6:00-7:00 PM      Activities and games related to the Bible story Jonah and the Big Fish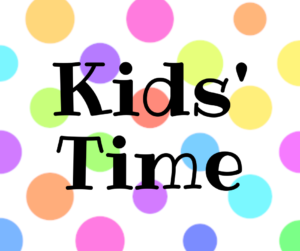 KIDS' TIME AND NOISY OFFERING–Kids' time is available during both the 8:30 AM and 10:45 AM worship services. This is a time for kids to gather at the front of the sanctuary and connect to our readings in a fun and interactive way. It allows children to hear God's love for them, all while being a part of the worship service. 
On the second Sunday of the month, kids can help collect our noisy offering during the offering time by carrying buckets to our congregational members.