SUNDAY SCHOOL–On the first Sunday of the month, Sunday School starts at 10:30 AM following the men's pancake breakfast; on the other Sundays of the month, Sunday School starts at 10:15 AM in the fellowship room upstairs. Sunday School is open to kids ages 3–5th grade. Join us each week for a time of music and faith formation!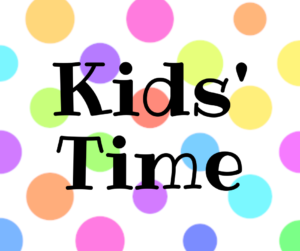 KIDS' TIME AND NOISY OFFERING–Kids' time is available during all worship services.
 This is a time for kids to gather at the front of the sanctuary and connect to our readings in a fun and interactive way. It allows children to hear God's love for them, all while being a part of the worship service.
On the second Sunday of the month, kids can help collect our noisy offering during the offering time by carrying buckets to our congregational members.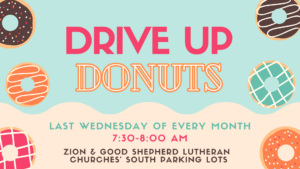 DRIVE UP DONUTS – On the last Wednesday of the month, donuts and a devotion will be available for pickup at Zion and Good Shepherd Lutheran churches. Simply enter the south parking lot, drive up to the table, and a helper will hand you donuts and a devotion that you can enjoy on your way to school. The first drive up donuts event will be held on Wednesday, September 27th from 7:30-8:00 AM. This event will be open to kids of all ages (and any parents or adults chauffeurs)! Need to be present to receive a donut.