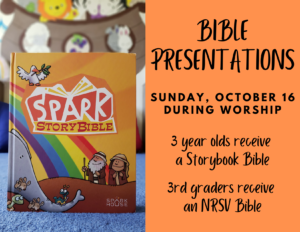 BIBLE PRESENTATIONS–On Sunday, October 16th, our three-year-olds and 3rd  graders will be receiving their very own Bibles!  Families can choose which service to attend to receive the Bibles.
Following worship that morning, the 3rd graders and a                  parent will meet with Pastoral Assistant Saundra to walk through their faith milestone, which includes an opportunity for kids to learn how to use their Bible.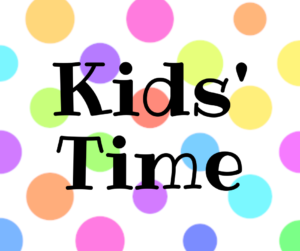 KIDS' TIME AND NOISY OFFERING–Kids' time is available during all worship services.
 This is a time for kids to gather at the front of the sanctuary and connect to our readings in a fun and interactive way. It allows children to hear God's love for them, all while being a part of the worship service. 
On the second Sunday of the month, kids can help collect our noisy offering during the offering time by carrying buckets to our congregational members.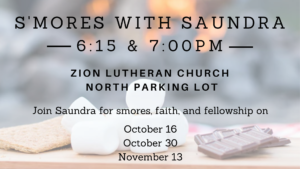 S'MORES WITH SAUNDRA–Join Pastoral Assistant Saundra for some yummy treats in the north parking lot on the following Sunday evenings:
October 16 – October 30 – November 13

*6:15 PM Elementary youth—grades 3-5
*7:00 PM Middle School & High School
Bring a friend, and don't forget to dress warm!  Hotdogs will also be available to roast for supper.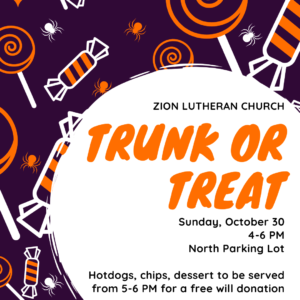 TRUNK OR TREAT– The Zion Faith Formation Committee will once again be hosting a Trunk or Treat event  on Sunday, October 30 from 4-6 PM, with a meal of hotdogs, chips, and dessert being served from 5-6 PM for a free will donation.
The committee is looking for donations of candy to be                given out at the event, along with cookies to be given                   during the meal for dessert. There will also be a sign-up for those who would like to host a vehicle during the event.
To sign up to host a vehicle or bring cookies, please see the table in front of the Sunday School bulletin board in the fellowship hall by Friday, October 28th.  All candy  donations can be left on this table, as well (no need to sign up to bring candy).  Donations should be brought to the church by Sunday the 30th at noon.