Announcements for the Week of October 2
Here are some highlights of the events and happenings at Zion.  For a full list of announcements, please click here.
Worship and Fellowship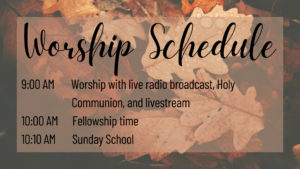 Fall 2022 Worship Schedule
We have one Sunday morning service available at 9:00 AM that features Holy Communion and a livestream. Music styles will alternate every other week with traditional services on the 1st and 3rd Sundays of the month and contemporary services on the 2nd and 4th Sundays of the month.  Hub City Radio graciously accommodated our change in worship, so our radio broadcast will continue to be live at the new time on KSDN radio 930 AM/102.1 FM.
This change in worship schedule is currently temporary; it will continue through the annual meeting at the end of January 2023 when the congregation will vote to continue with one service or end the change.
---
Ministry Opportunities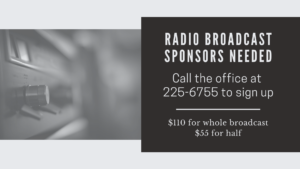 Would you consider donating either the whole cost or half the cost of a Sunday broadcast? A whole Sunday service is $110.00 and one half is $55.00. You are welcome to donate in remembrance of a loved one or in celebration of a special occasion to support this ministry. To sign up as a sponsor, contact the church office at 225-6755.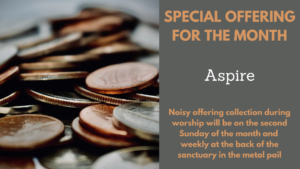 The October Special Offering is Aspire.  Please see the full bulletin for more information.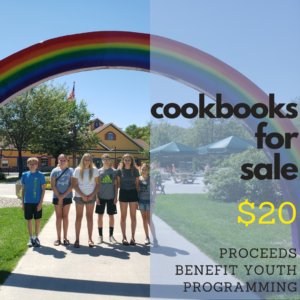 COOKBOOKS FOR SALE – The Zion cookbooks are done and they are here!  Cost is $20 and the proceeds support our youth programming.  Pick yours up anytime throughout the week in the church office or on Sunday mornings from the table in the narthex. We have a limited number of gift kits available for $35–stop and get yours before they're all gone!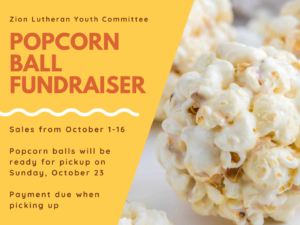 ---
Y
outh and Family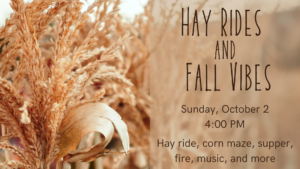 HAY RIDES AND FALL VIBES EVENT–Mark your calendar: if you love all things fall, this one is for you!  On Sunday, October 2, we will be joining the middle and high school youth from Good Shepherd and St. John's in  Warner for a joint fall event! We will meet at Zion at 3:30 PM and travel to Warner. From there, we will take a hay ride to the corn maze in Stratford; we'll then travel back to Warner for supper, a fire, music, and more! This event is open to kids in grades 6-12.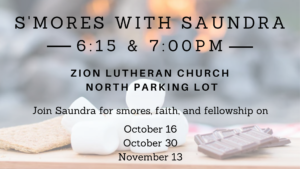 S'MORES WITH SAUNDRA–Join Pastoral Assistant Saundra for some yummy treats in the north parking lot on the following Sunday evenings:
October 16, October 30, November 13
6:15 PM Elementary youth—grades 3-5
7:00 PM Middle School & High School
Bring a friend, and don't forget to dress warm!  Hotdogs will also be available to roast over the open flame for supper.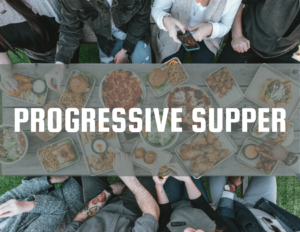 YOUTH PROGRESSIVE SUPPER – Our next progressive supper will be on Sunday, October 23rd.   Open to middle and high school youth.  Bring a friend! We will meet at Zion at 4:30 pm, and we will take the church van to our different locations. Kids will be returned for pick-up or can be dropped off at home after the event upon request.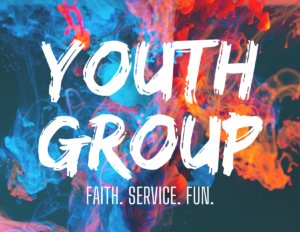 FALL YOUTH GROUP–Below are the dates for middle and high. Come as you are, and join in when you can!
October 16 @ 7:00 PM (during s'mores)
October 30 @ 7:00 PM (during s'mores)
November 6 @ 12:00 PM
November 13 @ 7:00 PM (during s'mores)
November 20 @ 12:00 PM (service project)
December 4 @ 12:00 PM (service project)
December 11 & 18 @ 12:00 PM