Announcements for the Week of October 1
Here are some highlights of the events and happenings at Zion.  For a full list of announcements, please click here.
Worship and Fellowship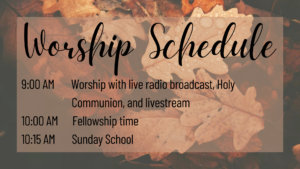 Fall 2023 Worship Schedule
We have one Sunday morning service available at 9:00 AM that features Holy Communion and a livestream. As a general rule, music styles will alternate every other week with traditional services on the 1st and 3rd Sundays of the month and contemporary services on the 2nd and 4th Sundays of the month.  Hub City Radio graciously accommodated our change in worship, so our radio broadcast will continue to be live at the new time on KSDN radio 930 AM/102.1 FM.
Following worship, there will be a time of fellowship and Sunday School at 10:15 AM.


GOD'S WORK OUR HANDS OPPORTUNITIES
Making freezer meals at Zion on Sunday, October 1 at 11:30 AM in the kitchen. Bring a friend and join us!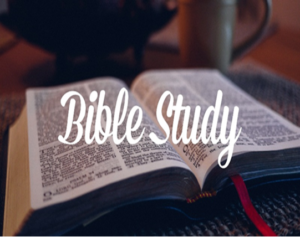 BIBLE STUDY—There will be Bible Study available beginning October 4th. The fall session will be over the Old Testament.  Classes are available Wednesday evenings at 6:30 PM in the fellowship hall and on Thursdays at 12:00 PM in Classrooms A&B. Both sessions will feature the same lesson, so pick the time that's most convenient for you! Feel free to bring your lunch, and handouts will be available to take with you.
---
Ministry Opportunities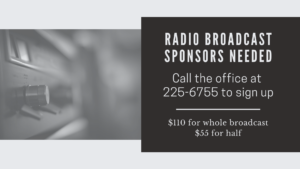 Would you consider donating either the whole cost or half the cost of a Sunday broadcast? A whole Sunday service is $110.00 and one half is $55.00. You are welcome to donate in remembrance of a loved one or in celebration of a special occasion to support this ministry. To sign up as a sponsor, contact the church office at 225-6755.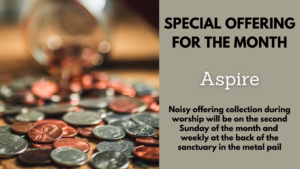 The October Special Offering is Aspire. Please see the full bulletin for more information.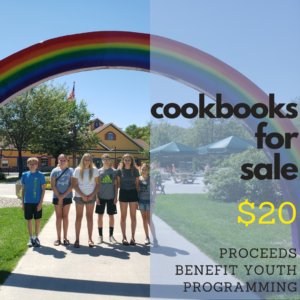 COOKBOOKS FOR SALE – The Zion cookbooks are done and they are here!  Cost is $20 and the proceeds support our youth programming.  Pick yours up anytime throughout the week in the church office or on Sunday mornings from the table in the narthex. We have a limited number of gift kits available for $35–stop and get yours before they're all gone!
---
Y
outh and Family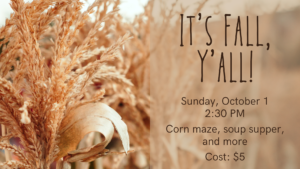 IT'S FALL, YA'LL!–Mark your calendar–if you love all things fall, this one is for you!
On Sunday, October 1, the middle and high school youth from Zion, Good Shepherd, and St. John's in Warner will come together for a joint fall event!
We will meet at Zion at 2:30 PM and travel to the Back Forty Beef Adventure Farm outside Pierpont. There will be a corn maze, straw tunnels, slide, games and a corn box to check out! Once we're done, we'll then travel back to Zion for a soup supper. Alternate fall activities planned if it's raining!
Cost is $5 per youth; this event is open to kids in grades 6-12.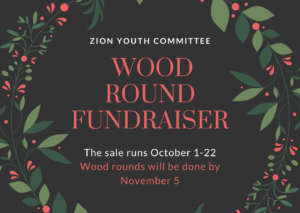 WOOD ROUND FUNDRAISER–The Youth committee will be selling wood rounds as a fundraiser. Proceeds from    the sales will be used for youth    programming. Sales will run from October 1- 22. All signs will be made and ready for pickup by Sunday, November 5, just in time to decorate for fall and Christmas! Different designs are available which will be customized with your last name, so you will be able to choose what you would like, including size!  To order, complete an order form on the table in the narthex.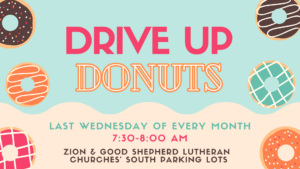 DRIVE UP DONUTS–On the last Wednesday of the month, donuts and a devotion will be available for pickup at Zion and Good Shepherd Lutheran churches. Simply enter the south parking lot, drive up to the table, and a helper will hand you donuts and a devotion that you can enjoy on your way to school. The next drive up donuts event will be held on Wednesday, October 25 from 7:30—8:00 AM. This event will be open to kids of all ages (and any parents/adults who are chauffeuring)! Need to be present to receive a donut.