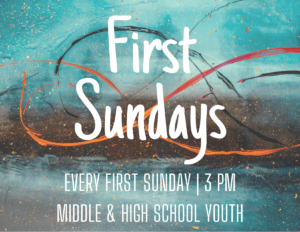 FIRST SUNDAYS – Join us for a time of fellowship, service, faith, and fun! Come as you are, and join in when you can!
Dates for First Sundays are:  November 5 & December 3
Meet in the youth room at 3:00 PM. Open to middle and high school youth—bring a friend!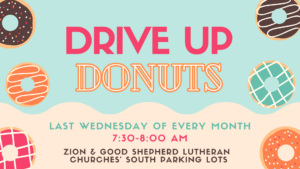 DRIVE UP DONUTS – On the last Wednesday of the month, donuts and a devotion will be available for pickup at Zion and Good Shepherd Lutheran churches. Simply enter the south parking lot, drive up to the table, and a helper will hand you donuts and a devotion that you can enjoy on your way to school. The next drive up donuts event will be held on Wednesday, November 29th from 7:30-8:00 AM. This event is open to all.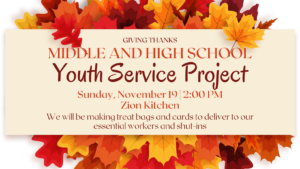 GIVING THANKS EVENT–As a way to give back to our community, the middle and high school youth with hold a Giving Thanks event on Sunday, November 19th at 2:00 PM. We will be making treat bags and cards to take to our essential workers and shut-ins. Mark this date on your calendar and plan to join us as we celebrate all we have to be thankful for!