Announcements for the Week of May 22
Here are some highlights of the events and happenings at Zion.  For a full list of announcements, please click here.
Worship and Fellowship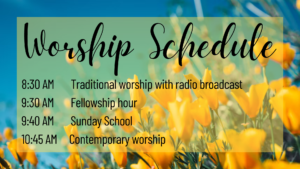 ---
Ministry Opportunities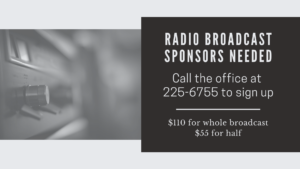 Would you consider donating either the whole cost or half the cost of a Sunday broadcast? A whole Sunday service is $110.00 and one half is $55.00. You are welcome to donate in remembrance of a loved one or in celebration of a special occasion to support this ministry. To sign up as a sponsor, contact the church office at 225-6755.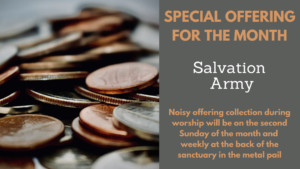 The May Special Offering is the Salvation Army of Aberdeen.  Please see the full bulletin for more information.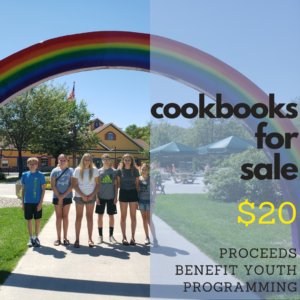 COOKBOOKS FOR SALE – The Zion cookbooks are done and they are here!  Cost is $20 and the proceeds support our youth programming.  Pick yours up anytime throughout the week in the church office or on Sunday mornings from the table in the narthex. We have a limited number of gift kits available for $30–stop and get yours before they're all gone!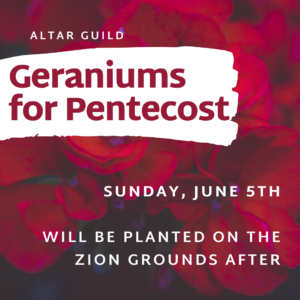 GERANIUMS FOR PENTECOST – Altar Guild invites you to bring red geraniums to beautify the sanctuary for Pentecost on Sunday, June 5th. If you prefer, you may give money to the church office and it will be used to purchase geraniums.  After Pentecost, they will be planted outdoors in front of the church.   We need several plants to make this possible. Please attach a note if you want your plant to memorialize or honor someone.
---
Y
outh and Family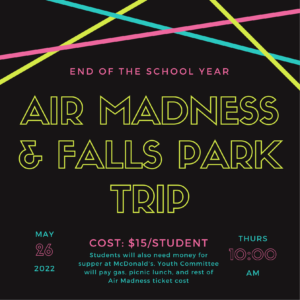 AIR MADNESS & FALLS PARK TRIP–We will be taking a trip to Sioux Falls to celebrate the end of the school year!  Join Pastoral Assistant Saundra next Thursday, May 26th for a day of fun! We will meet at Zion at 10:00 AM and travel to Sioux Falls.  We'll have a picnic lunch at Falls Park and explore the area (if there's time before Air Madness, we may check out the Japanese Gardens at Terrace Park). We'll head to Air Madness from 4-6 PM and stop at McDonald's afterwards to grab some food for the ride home.  We will arrive back in Aberdeen around 10:00 PM. Cost is $15 per kid and money to eat at McDonald's. The Youth Committee will pay gas, picnic lunch, and the remainder of the ticket cost for each kid.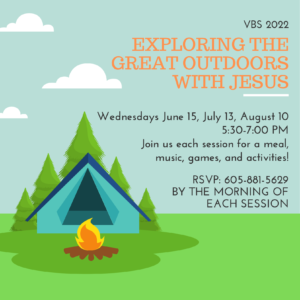 SUMMER 2022 VACATION BIBLE SCHOOL – You are invited!! Join us for three sessions of VBS this summer as we Explore the Great Outdoors with Jesus!  These sessions will be held on Wednesdays June 15, July 13, August 10. Each session features a new location in the great outdoors with a corresponding Bible story, along with a meal, music, and much more!  For more information, or to pick up a registration form, please see the Sunday School bulletin board in the Fellowship Hall.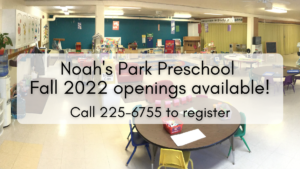 PRESCHOOL REGISTRATIONS are  being accepted for the 2022-23 school year.  If you have a child ages 3-5, or know of anyone who would like to sign up, please  call the church office @ 225-6755 to register.