Announcements for the Week of January 16
Here are some highlights of the events and happenings at Zion.  For a full list of announcements, please click here.
Worship and Fellowship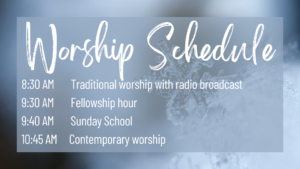 ---
Ministry Opportunities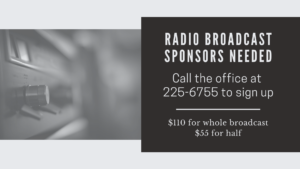 Would you consider donating either the whole cost or half the cost of a Sunday broadcast? A whole Sunday service is $110.00 and one half is $55.00. You are welcome to donate in remembrance of a loved one or in celebration of a special occasion to support this ministry. To sign up as a sponsor, contact the church office at 225-6755.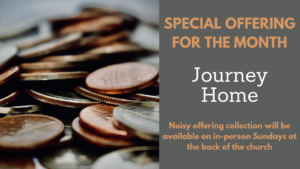 The January Special Offering is Journey Home. Please see the full bulletin for more information.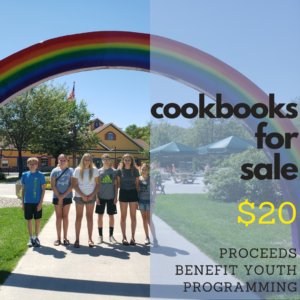 COOKBOOKS FOR SALE – The Zion cookbooks are done and they are here!  Cost is $20 and the proceeds support our youth programming.  Pick yours up anytime throughout the week in the church office or on Sunday mornings from the table in the narthex. We have a limited number of gift kits available for $30–stop and get yours before they're all gone!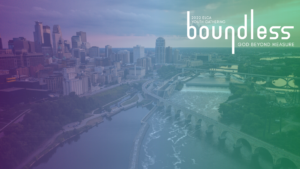 ELCA YOUTH GATHERING BULLETIN BOARD—We are on our way! On the display in the Narthex, you will find more information about the trip and the youth who are attending.  We ask you to consider supporting our mission through prayer and donations as we begin preparing for next summer. Thank you!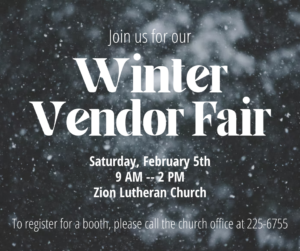 WINTER VENDOR AND CRAFT FAIR — Zion will be hosting a Winter Vendor & Craft Fair on Saturday, February 5th, starting at 9 AM in the Fellowship Hall. If you would like to have a booth in the event, please call the church office at 225-6755.  Cost is $30.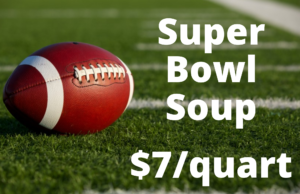 SUPER BOWL SOUP–The Organ Restoration committee is selling quarts of turkey noodle and knoephla soup. Cost is $7/quart. Orders can be placed between now and Sunday, February 6th.  Soup can be picked up on Saturday, February 12th (or phone calls will be made if soup is done earlier). Call the church office at 225-6755 if you are interested in ordering.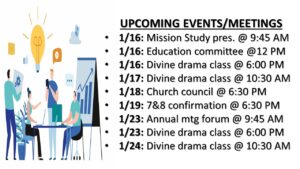 ---
Y
outh and Family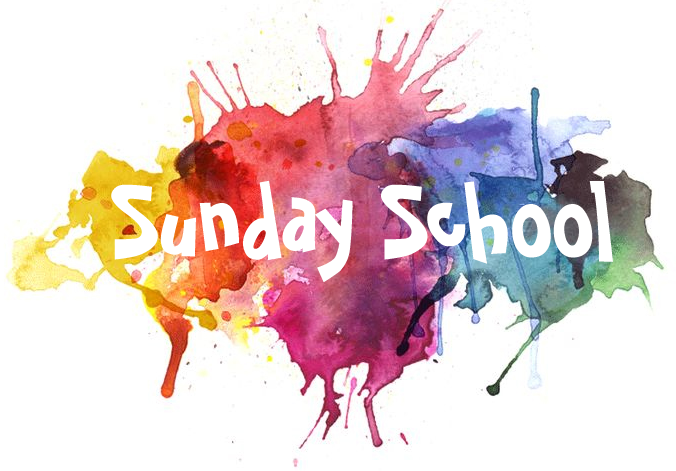 SUNDAY SCHOOL — Join us for weekly Sunday School faith time! Families will meet at 9:40 a.m. in the Friendship Room for our group opening; after the opening, kids will go to their Sunday School rooms, and parents are invited to a time of coffee and fellowship in the Fellowship Hall.  Sunday School resumes on Sunday, January 9th.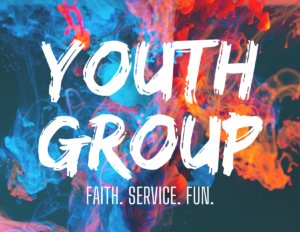 YOUTH GROUP–Join Pastoral Assistant Saundra for an hour of faith and fun!
Both Middle School & High School will meet every Sunday at 9:45 AM in the Youth Room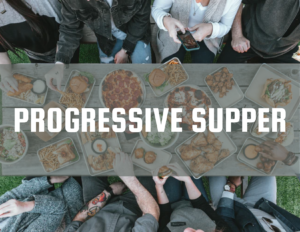 PROGRESSIVE SUPPER–Our next youth progressive supper will be on Sunday, January 30th.  Open to middle and high school youth.  Bring a friend!
We will meet at Zion at 4:30 pm, and we will take the church van to our different locations.    Kids will be returned for pick-up or can be dropped off at home after the event upon request.