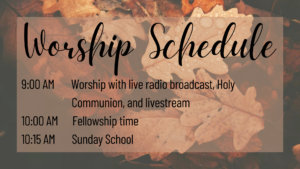 We currently have one service available on Sunday mornings. Worship is at 9:00 a.m. and can be heard live on KSDN 930 AM and 102.1 FM; this service will be alternating worship music styles with traditional music on the first and third Sundays of the month and contemporary music on the second and fourth Sundays.
Holy Communion will be available each week. All who believe that our Lord Jesus Christ is truly present in the bread and wine of the Lord's Supper, bringing to us the gift of forgiveness and the promise of eternal life, are welcome to gather at the Lord's Table. Gluten-free wafers and juice are available, as well.
All services will be livestreamed on our Facebook page and website. Recordings of the broadcasts will also be available after to be viewed at any time on our Facebook page or our YouTube channel.
---